The unSUITable CASE of me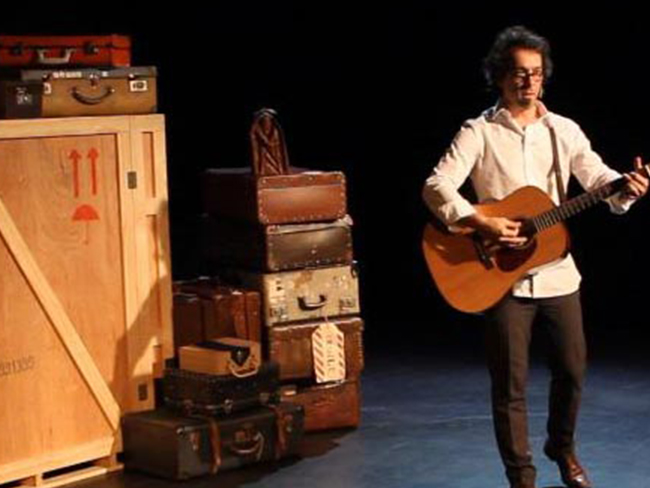 Creative Team
Music written and performed by Dean Stevenson with string quartet
Story Finegan Kruckemeyer
Design Selena de Carvalho
After the house has lost its fullness, the pub has lost its history, the chairs have lost their comfort and tea has lost its heat, you find yourself doing the most dangerous thing…quantifying the man you are, without the woman who left you.
The show begins in the present, with a man who is, in many ways, lost to himself. So he searches for memories. Moments when he really lived. He journeys back to significant events in his life to discover how he got to the 'now'.
A new story of a search for significance told through an evocative song-cycle by Dean Stevenson with a string quartet from a story by playwright, Finegan Kruckemeyer.
Dean is a brilliant song writer, a regular guest on ABC radio and his shows blend the best of fine music with modern day storytelling. His intimate performance style and warm reedy voice, invites you in to hear him share his secrets.
Though not created specifically for children, they will enjoy the contemporary style of the music. Recommended 14 years up.
Tasmanian Tour
November 9 – 26, 2013
Brighton, Franklin, Kettering,  Sorell, Cygnet, Scottsdale, St Helens, Swansea, Stanley, Ulverston, Exeter
Download
"A brilliant show about brothers, love and being a man… full of heart that blends story and song in the best way I've seen. Insightful and beautiful."
Ryk Goddard ABC Radio Breakfast Announcer, Hobart
"Stevenson moves seamlessly between musician, singer and performer,…he has a voice that is made to be heard; rich, gravelly  at times and matched beautifully to the both the sentiment within the work and the accompanying strings."
Kylie Eastly, Write Response Tasmania's reviewer's blog
"It took me about 6 bars to fall in love…a great talent."
Get Out Magazine, Hobart.