By Nathan Maynard (palawa) and Jamie McCaskill (Māori)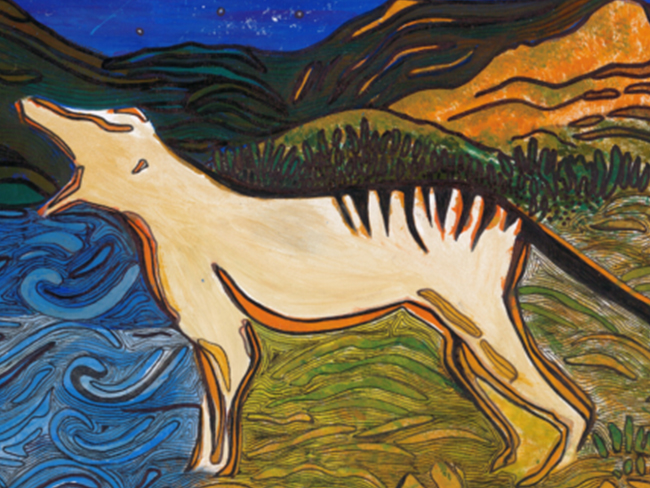 Creative Team
Writers Jamie McCaskill (Māori) and Nathan Maynard (palawa)
Director Isaac Drandic (Noongar)
Set Designer Jane Hakaraia (Māori)
Design Assistant  Denni Proctor (palawa)
Sound Designer Maaka McGregor (Māori)
A PERFORMING LINES TAS PRODUCTION
Development Stages 
Stage 1: Aotearoa and lutruwita/ Tasmania – Co-writers travelled to each others land to undertake cultural research.
Supported by Arts Tasmania and anonymous delegates of the 2017 PAC Australia conference
Stage 2: niplaula, lutruwita (Hobart/Tasmania)- Script Devlopment Dramaturgy by Kamarra Bell-Wykes
Supported by: Ten Days on the Island, Major Festivals Initiative Seed Funding and Illbijerri Theatre Company (Dramaturgy).
Stage 3: niplaula, lutruwita (Hobart/Tasmania) Script Development Director Jada Alberts & Dramaturgy Kamarra Bell-Wykes
Supported by Creative New Zealand, Regional Arts Fund, Arts Tasmania and The Australia Council for the Arts
Stage 4: niplaula, lutruwita (Hobart/Tasmania) Creative Development with Production Director Isaac Drandic, Designer Jane Hakaraia, Sound Designer Maaka McGregor, AV artist Keith Deverell
Stage 5: Aotearoa- Creative Development Directed by Isaac Drandic
Cast-Reuben Butler, Elaine Crombie, Tibian Wyles, Tamati Moriarty, Denni Proctor,
Supported by: Taki Rua, Captial E Childrens Festival, Major Festivals Initiative
Stage 6: Production Initial Rehearsal process, not completed due to COVID
Cast-Reuben Butler, Melodie Reynolds Diarra, Najwa Adams-Ebel, Zak Martin, Tibian Wyles, 
Hide the Dog artwork by Denni Proctor
In Development:
When Niarra (palawa) and Te Umuroa (Māori) come across the last Tasmanian Tiger their only option is to hide it in Aotearoa New Zealand.
Hide the Dog is a trans-Tasman First Nation creation from lutruwita/Tasmanian playwright Nathan Maynard (pakana) and Aotearoa/New Zealand writer Jamie McCaskill (Māori).
Directed by Isaac Drandic (Noongar), and designed by Jane Hakaraia (Māori).
Playing in the bush, besties Niarra and Te Umuroa accidentally stumble upon the world's last Tasmanian Tiger. How will they keep their new friend safe from harm? Dodging hunters, these young heroes set sail across the Tasman Sea to hide the dog! But hunters aren't the only ones on their tail. They'll have to outwit Māori gods and palawa spirits to save their furry friend.
Originally programmed for a world premier season at four leading festivals during 2021 all have been postponed due to COVID.  New dates TBC.
TEN DAYS ON THE ISLAND 2021 SEASON POSTPONED DUE TO COVID
2021 SYDNEY FESTIVAL, BRISBANE FESTIVAL AND RISING FESTIVAL MELBOURNE POSTPONED DUE TO COVID