By Nathan Maynard (palawa) and Jamie McCaskill (Māori)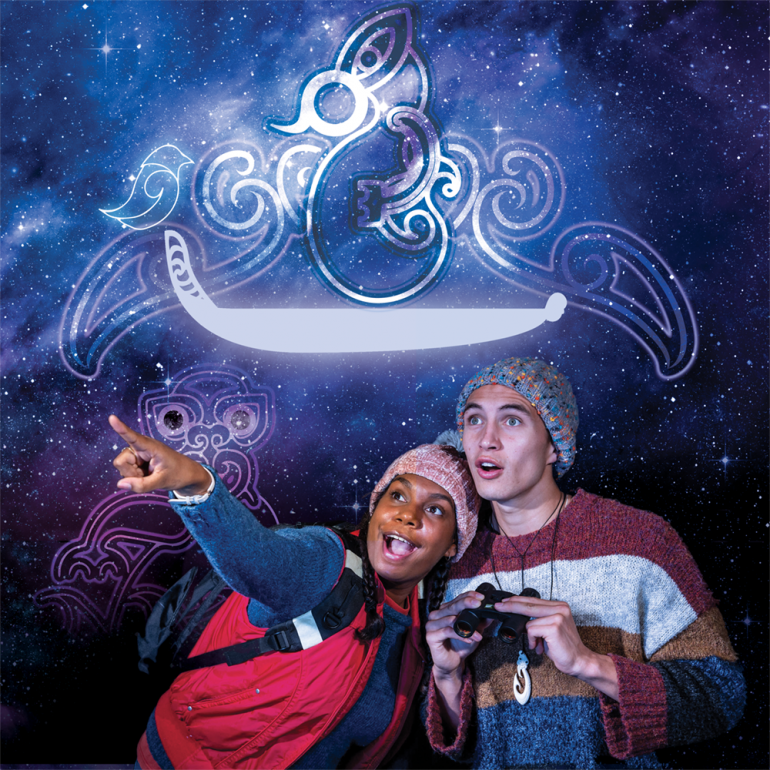 CREDITS
Co-Writers Nathan Maynard (pakana) & Jamie McCaskill (Ngāti Tamaterā, Te Ati Haunui a Pāpārangi, Ngā Puhi) 
Director Isaac Drandic (Noongar)
Assistant Director and pakana Cultural Advisor Nathan Maynard (pakana)
Cast Tibian Wyles (Girramay, Kalkadoon), Reuben Butler, Kaitamariki/Tāwhirmātea, Najwa Adams Ebel (Biri-Guba) and 2 more cast members TBC.
Set Designer Jane Hakaraia (Ngāti Raukawa ki te Tonga)
Sound Designer Maaka McGregor (Māori)
Lighting Designer Ben Hughes
AV Designer Keith Deverell
Costume Designer Sabio Evans
Assistant Director Nathan Maynard (pakana)
Associate Designer and Design pakana Guide Denni Proctor (pakana)
Boat Technical Design Greg Methe 
Additional Cultural Advisor Maakarita Paku
moinee song lyric contributor  
Kaninna Langford (Aboriginal), Jordy Gregg (Murrie) 
moinee song sung by Dewayne Everett smith (palawa, Gunai/Kurnai)
pakana Cultural Advisor Nathan Maynard (pakana) 
Additional Māori Advice Maaka McGregor (Māori)
Pakana Visual Advisor Denni Proctor (pakana) 
Additional Cultural Advice Maakarita Paku 
Education Kit
Dr Meg Upton with Theresa Sainty (pakana) and Kimo Winiata (Māori) 

PRODUCTION
Producer Annette Downs 
Production Manager Simon Rush
Construction Team Sabio Evans, Jen Goodluck, Petra Lagewaard, Greg Methe, Denni Proctor, Jake Sanger and Édith la Sauvage 
Marketing materials  
Jillian Mundy (pakana—photography)  
Denni Proctor (pakana—Tiger Linocut) 
CREATIVE DEVELOPMENTS
2020/21  
Cast Melodie Diarra Reynolds and Zak Martin 
Crew Rory Grinham 
2018-2019
Dramaturgy Kamarra Bell-Wykes (Yagera, Butchulla)
DirectorJada Alberts (Larrakia, Yanuwa, Bardi, Wardaman)
Performers Elaine Crombie (Pitjanttajtarra, Warrigmal, South Sea Islander), Jordy Gregg (Murrie), Kaninna Langford (Aboriginal), Tamati Moriarty (Māori), Lisa Gormley, Craig Irons, Melissa King
Other Artists Tānemahuta Gray (Māori), Horomona Horo (Māori), Andrew Bluff, David Clarkson, Rachel Lang 
When two children come across the last Tasmanian Tiger, their only option is to hide it in Aotearoa New Zealand.
Besties Niarra (palawa) and Te Umuroa (Māori) are out playing in the bush. Just another day in paradise – until they glimpse what can only be the world's last Tasmanian Tiger.    
Dodging hunters, Niarra and Te Umuroa set sail for Aotearoa to hide their new friend. But hunters aren't the only ones on this Tiger's tail. They'll have to outwit Māori gods and palawa spirits to save their furry friend.   
Co-written by Tasmanian playwright Nathan Maynard (palawa) and Aotearoa writer Jamie McCaskill (Māori), Hide the Dog is a truly trans-Tasman creation. This world premiere production from Performing Lines TAS is directed by Isaac Drandic (Noongar) on a spectacular set by Māori designer Jane Hakaraia.   
Intrepid young explorers will delight in this celebration of adventure, friendship and the power of culture – wherever you find it. 
HTD will open across the country in 2023 at multiple festivals. 
Details will  be shared here and via our social media as they become public.
NATHAN MAYNARD (pakana) – Co-Writer/Assistant Director, Hide the Dog
Nathan is a Trawlwoolway man from lutruwita/Tasmania. He also belongs to lutruwita's Furneaux Island Aboriginal community.
Nathan's play The Season was featured in the 2015 Yellamundie Festival (Moogahlin). This Performing Lines TAS production received MFI funding and premiered in 2017 at the Sydney Festival, Ten Days on the Island and Melbourne Festival followed by an 11-venue national tour in 2018. It went on to be nominated for 8 Green Room Awards, and won three, including Best Production. Nathan's play for children A Not So Traditional Story produced by Terrapin Puppet Theatre company, toured to primary schools across Tasmania in 2018 and in 2019 and was presented at Arts Centre Melbourne and Brisbane Festival.
Nathan was named Tasmanian Aboriginal Artist of the Year Award in 2006 and 2013, and Tasmanian Aboriginal of the Year at the 2017 NAIDOC awards. In 2019 he was awarded the Balnaves Foundation Aboriginal and Torres Strait Islander Fellowship at Belvoir and a Churchill Fellowship.
Nathan balances his life between family, community, culture and writing and resides on the East Coast of Tasmania.
JAMIE McCASKILL (Ngāti Tamaterā, Te Ati Haunui a Pāpārangi, Ngā Puhi)
– Co-Writer, Hide the Dog
 Jamie is a writer, director, actor and producer based in Wellington. After graduating from UCOL Theatre School in 2000, Jamie has gone on to maintain a successful career in the performing arts, touring nationally and internationally as an actor and singer, most recently as a member of
Modern Māori Quartet.
An award-winning playwright, Jamie was awarded the prestigious Bruce Mason Award in 2013 for his dynamic play Manawa. Not In Our Neighbourhood was awarded Best New New Zealand Play at the Wellington Theatre Awards in 2015. An up and coming Māori screen-writer, Jamie has written for Awa Films' Colonial Combat and Whatta Beauty and is head writer for Hari with The Māori Sidesteps.
Jamie is Director of Wellington-based independent theatre company Tikapa Productions and The Māori Sidesteps Collective.
The world premiere of Hide the Dog is supported by the Australian Government's Major Festivals Initiative, managed by the Australia Council, its arts funding and advisory body, in association with the Confederation of Australian International Arts Festivals Inc., commissioned by Ten Days on the Island, Brisbane Festival, Rising, Sydney and Perth Festival.    
This project has also been supported by Arts Tasmania, Tim Minchin, Terrapin, Theatre Royal Hobart, Taki Rua, Creative NZ,  Illibijerri Theatre Company, Capital E Children's Theatre NZ, Bryony Anderson, Museum of New Zealand te Papa Tongarewa, Arts Centre Melbourne, Queensland Performing Arts Centre Tikapa Productions, and anonymous PAC conference 2017 delegates.