Created and performed by Julia Drouhin and Anand Kumar
 Selected for development through a residency at MAC in 2022, Art Wash is a performance artwork based on the principle of fast food reimagined as car-based 'fast art' by Anand Kumar and Julia Drouhin.  
Seated inside a car an audience will be transported to the land of Art Wash, as Nipaluna in her disembodied spirit, welcomes them. A radio station will narrowcast into the car with sounds from the carwash and bubbling of bubbles and squeaking of wipers. 
An audience will be able to 'order' a smorgasbord of options for the Art Wash detailing of their car, are then seated inside before the doors close and the 'wash' begins.
The art wash menu items will be transient pieces; artworks sketched into a dust covered rear windscreen, foam sculptures which grow and cover the car and kids menu items developed through engagement with local schools.
Alchemical foam sculpting will take form as the main performers/attendants take the next order from the following customer. 
Art Wash finishes as all the art is wiped clean by car wash rollers attached to the arms of the attendants who then remove any trace of the former persons order, leaving the audience with a customised Air Freshener printed with the artwork they chose from the menu to take home as a memento.  
Seeded at Tarraleah Residency 2021.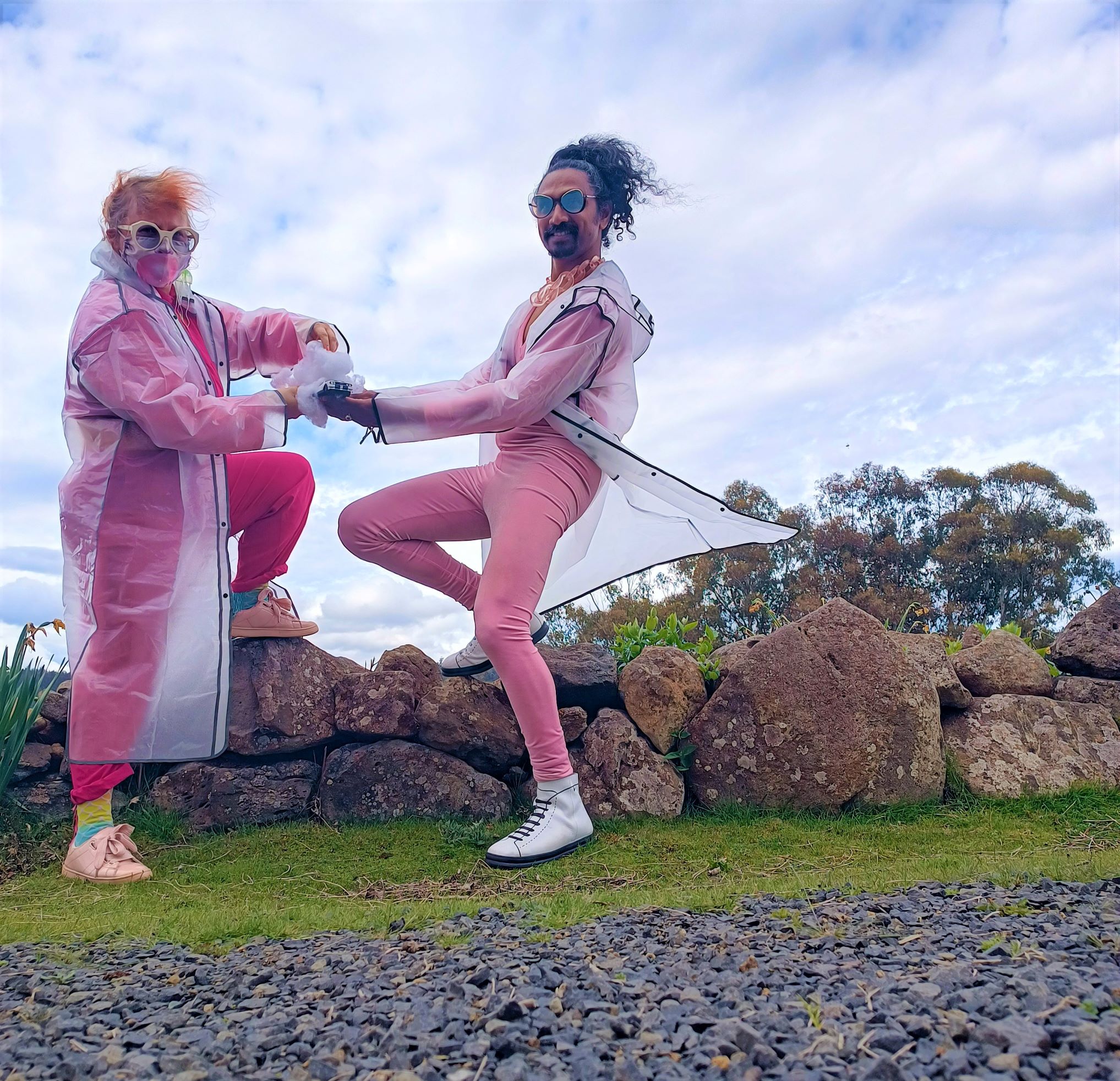 Julia Drouhin (she/her, VK7HAG) amplifies invisible soundstreams that reveal friction in sociality via radioscape, installation or collaborative performance.
She was part of the Instrument Builder Project (IBP5) engaging artists from Australia and the Asia-Pacific curated by Contemporary Art Tasmania, Volcanic Winds and Liquid Architecture for Mona Foma 2021.
She undertook a mentorship at the Structures Sonores et Cristal Baschet supported by the Australia Council for the Arts at the Cité Internationale des Arts in Paris, France in 2019 to study water based instruments made primarily for autistic children.
She was one recipient of 2019 Australia Art Orchestra residency creative music intensive, 2020 Tone List Sounding Together, Tankwa Artscape residency 2019 (South Africa), Contemporary Art Tasmania studio 2019 and Situate Art Lab 2016 that supported a street sound walk commission by Vrystaat Festival (South Africa) in 2018: Altitude Immersive Radio.
Her curatorial project Sisters Akousmatica with Phillipa Stafford was awarded the 2017 CBAA Excellence in Music Programming award with 3CR.
Julia completed her Ph.D about the art of walking and broadcast impact in public space in Paris 8 France in 2011 before living in lutruwita/Tasmania, where she currently works for artists with disabilities at Mosaic and Second Echo Ensemble.
Anand Kumar is a performance artist with a background in contemporary dance. He has experience as performer, choreographer, sculptor and director. He trained in Sydney studying middle eastern dance prior to developing into a performance artist through work with Annetta Luce (Arizona, USA) and with performance artist group PORK (Sydney, AUS).
He has travelled and performed extensively in Sydney, Melbourne, Berlin and in Hobart. He has performed with group shows at Cockatoo Island festival, Medium Rare gallery, The Sensualists, Peats ridge festival, Tanz im August Berlin, Sydney Festival and at Sidney Myer Music Bowl Australia Day performances. He has also worked on video artworks for band CODA, Sydney Opera house and photography for band Actual Russian Brides and performance artist Lull.
Since moving to Tasmania 7 years ago, he has performed in video artist, Amos Gebhart's There are No Others, which was created as a collaboration with MONA FOMA and Kate Miller-Heidke 2016. He has also worked for Unconscious Collective in FLUX for Unconformity festival 2016, Faux Mo for MONA FOMA 2018 and Hypnapod at both M'Pavillion and Sunflower Festival Tasmania 2020 and 2021. He co-directed and performed in the art installation Ice Bär | Smoke Bär 2019. He has most recently performed with Pope Alice for Dark MOFO 2021.