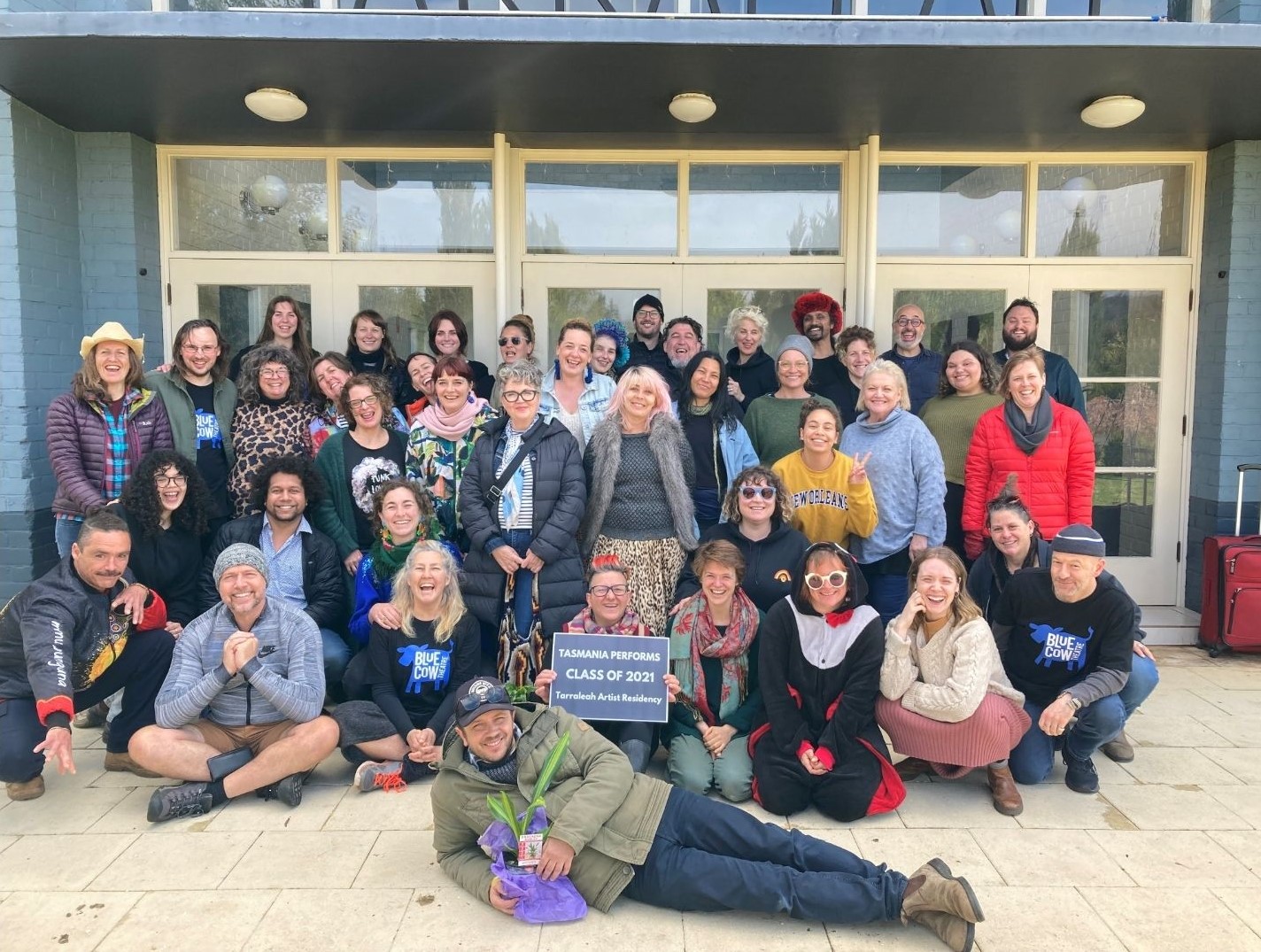 Tasmania Performs Artist Residency 2021 was held at Tarraleah, 22 – 24 October 2021. 
The weekend at Tarraleah (our largest ever) saw 31 artists, working across various projects, supported by 5 mentors and 3 staff.
PARTICIPANTS
Katarnya Maynard, Takani Clark, Nunami Sculthorpe Green, Felicity Bott, Paul Wakelam, Bryony Geeves, Carrie McLean, Cheryl Wheatley, Jodie Le Vesconte, Amanda Hodder, Danni Ashton, Mel King, Ivano DelPio, Kerri Gay, Gabrielle Adkins, Emesha Rudolf, Edith Perrenot, CiCi Xiyue Zhang, Moran Wiesel, Rose Ottavi-Kokkoris, Julia Drouhin, Anand Kumar, Jem Nicholas, Nathan Pritchard, Lila Mileisea, Nathan Maynard. Jordy Gregg, Kat Trail & Bek Varcoe.
MENTORS
COURTNEY GIBSON
Courtney Gibson is a screen industry executive who has served as CEO Screen NSW, CEO South Australian Film Corp and Adelaide Studios, Executive Head of Content Creation and Head of Arts, Entertainment and Comedy at ABC TV, Director of Programmes at Southern Star-Endemol and Programming Production Executive at Nine. With a background prior as a TV writer-producer and researcher in Australia and the UK, Courtney now lives in Launceston.
LINDY HUME
Lindy Hume is one of Australia's leading artistic directors, acknowledged for progressive leadership of several Australian arts organisations including Perth International Arts Festival (2004-2007), Sydney Festival (2010-2012), West Australian Opera (1992-96), Victoria State Opera/OzOpera (1996-2001) and Opera Queensland (2012-2017). She Artistic Director (2019-2023) of Ten Days on the Island, Tasmania's biennial state-wide festival. Originally a dancer, she has created more than 50 major opera productions across Australasia and in Germany, Belgium, Switzerland, Sweden, New Zealand, the UK and USA. Recent and future productions include Don Giovanni (Opera Queensland 2017), Cinderella (Royal Opera, Stockholm 2017) Carmen (Leipzig Opera 2018), The Barber of Seville (New Zealand Opera 2019) Rigoletto, Cinderella (Seattle Opera 2019) The Marriage of Figaro (New Zealand Opera 2021) and Madam Butterfly (Welsh National Opera 2021). Recognised as a champion of new Australian work, she commissioned and directed the world premieres of Richard Mills' operas The Love of the Nightingale at Perth Festival and Batavia for Opera Australia and the Melbourne Festival 2001, for which she won the Helpmann Awards for Best Director and Best Production. At Perth Festival she commissioned new theatre, dance, opera and symphony within the award-winning Wesfarmers Arts Commissions series and her 2010 Sydney Festival won 5 Helpmann Awards including Best New Australian Work for Smoke & Mirrors.  Lindy Hume is the recipient of an Australia Council Theatre Board Fellowship and holds a Graduate Diploma in Arts Administration from the University of South Australia. In 2007 she was awarded the Honorary Degree of Doctor of Letters by UWA in recognition of her contribution to the cultural life of Western Australia. She served on the Australia Council's Major Performing Arts Board (2008-2011) and was Chair of South East Arts and Regional Arts NSW. Her 2017 Currency House Platform Paper: Restless Giant: Changing Cultural values in Regional Australia imagined a future national cultural landscape in which regional creativity is a driving force. She is currently a PhD candidate at QUT.  
LUCY FORGE
Lucy Forge is a lutruwita/Tasmania based festival maker, arts manager, strategic leader and creative producer with over a decade's experience across many diverse artforms, festivals, venues and companies. Lucy is currently the Executive Producer at Naarm/Melbourne's new multi-arts festival RISING, leading a large team to realise a bold new vision for how festivals and artists can collaborate to make ambitious work that transforms a big city. Previously she was Head of Programming then Executive Producer at Dark Mofo from 2015 through to 2019. Prior roles include Program Manager for various events and festivals at Mona, Producer and Acting Program Manager for Artistic Development and Public Programs at Arts Centre Melbourne, and various project management, producing and communications roles at Malthouse Theatre, Melbourne International Jazz Festival, The Falls Music & Arts Festival and Melbourne Fringe Festival. While Lucy currently spends much of her time interstate for her work with RISING she cherishes every moment she can get back on her island home and is a proud member of her local Bream Creek Show organising committee.
PAUL SELWYN NORTON
Paul is a highly experienced senior arts leader with a global and diverse multi-artform network and portfolio. Transitioning out of a medical career into the Arts, he worked with the prestigious Batsheva Dance Company and William Forsythe's Ballet Frankfurt, before setting up his own production company "No Apology" in The Netherlands. 25 years as a successful artist, producer and venue manager underpin his deep commitment and capability as a curator and sector innovator. As the director of STRUT Dance, his significant record of executively producing high-calibre and accessible contemporary events and festivals, secured global luminaries such as William Forsythe, Sidi Larbi Cherkaoui, Crystal PIte, Lucy Geurin and Punchdrunk into multi-year programming, presentations and precinct activations across Australia and the world. Paul is the incoming director of Junction Art Festival in Launceston, Tasmania. His first festival to be celebrated during the Spring 2022.
SIMON WELLINGTON
Simon has over 25 years' experience as an arts manager, programmer and producer, working in Australia, Indonesia and the United Kingdom. Since commencing his career in Hobart with Salamanca Theatre Company and Salamanca Arts Centre, previous roles have included the General Manager of Griffin Theatre Company, Australia's leading new writing theatre based at the historic Stables Theatre in Sydney. He was general manager for the western Sydney based Urban Theatre Projects and has programmed and produced for international festivals and events, including Ten Days on the Island and the Australian Theatre Forum.    From 2015, Simon was based in Cambridge, UK, working for Arts Council England with theatres, arts centres, festivals, galleries and museums across the East of England. He has also worked with local authorities to develop cultural strategies and improve opportunities for people to engage with creativity and culture. Simon commenced as Chief Executive at the Theatre Royal Hobart in September 2021.