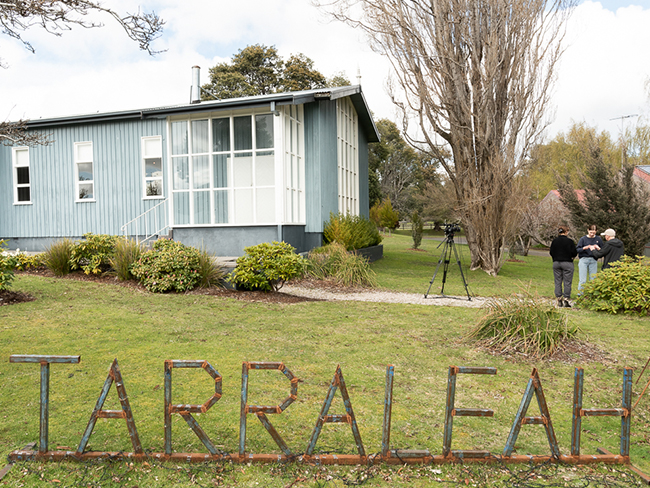 Tasmania Performs Artist Residency was held at Tarraleah, 11- 13 October 2019. 
The weekend at Tarraleah saw 19 artists, working across various projects, supported by 5 mentors and 2 staff.
PARTICIPANTS
Nathan Maynard, Rob Braslin, Felicity Horsley, Sinsa Mansell, Alison Mann, Rhys Gray, Sarah Hamilton, Rose Ertler, Jamie Graham, Anita Bacic, Gillian English, Carmencita Palermo, Ivano Del Pio, Gabrielle Adkins, Robert Jarman, Hannah Vermeulen, Joel Fenton, Luke John Campbell and Loren Kronemyer
MENTORS
ANGHARAD WYNNE-JONES
Angharad is Head of Creative Engagement at Arts Centre Melbourne, leading a team of creative producers in innovative participative arts programs of access and inclusion, young people, public realm and creative learning. From 2011-2017 she was Artistic Director at Arts House, City of Melbourne. She is Founder Director of TippingPoint Australia developing international and local projects with artists, scientists and communities energising the cultural response to climate change. She is a regular contributor to panels and conferences in Australia and internationally as key note speaker, presenter, facilitator and convenor. 
DEBORAH POLLARD
Deborah is a professional theatre director, performer and artist based in Sydney Australia. Her artistic practice has encompassed collaborations with a variety of different practitioners from dancers to farmers to performers and visual artists among others. Trained originally in theatre as a performer and director, her practice has shifted over the past 25 years towards a hybrid between performance and visual arts. Deborah's performance, theatre and installation works have toured throughout Australia as well as internationally. In addition to her independent practice she has also worked extensively within the Australian theatre and performance sector. She was artistic director of Salamanca Theatre Company, Hobart (1997-2000) and interim artistic director for Urban Theatre Projects (2006-2007). She also works as a freelance director, dramaturge and performer having worked extensively with Urban Theatre Projects, Paschal Berry and Anino Shadowplay Collective, Performance Space and Version 1.0 among others.  Over the course of her career Deborah has received many prestigious awards and fellowships, most notable being the Winston Churchill Memorial Fellowship in 2000, the Rex Cramphorn Scholarship in 2001 and a New Media Arts Board Fellowship from the Australia Council in 2002/3. Deborah's extensive working practice includes leading roles in the development, co-ordination and facilitation of interdisciplinary arts labs for young artists in Australia including Splendid Arts Lab 2009, SITUATE- Art in Festivals 2016 and 2018.
BEC REID
Bec is an Australian based performer, producer, director, choreographer and engagement specialist. Bec encourages people to see their world in new ways through highly physical, participatory, practical, collaborative and celebratory actions. For 20 years, Bec has passionately worked in the space where professional artists and communities of interest meet; collaborating with communities and artists nationally and internationally. Together with Tristan Meecham, Bec leads All The Queens Men, is a founding member of Everybody NOW! with Kate McDonald and Ian Pidd and regularly collaborates with acclaimed artists Madeline Flynn and Tim Humphrey. In 2017-18, Bec was a Fellowship recipient from the Australia Council for the Arts. Bec has continually served on arts boards and regularly mentors young and emerging artists formally and informally. Bec's true loves are Staffordshire Bull Terriers Italo Disco, Ceilidhs and dancing. www.becreid.net.au
CHRIS MEAD
Chris is Literary Director of Melbourne Theatre Company. Whilst at MTC Chris has trebled its number of commissions, increased the number of new Australian plays in its seasons, rebranded and repositioned its development work as core company business, and, in June 2017, launched Australia's most generous and ambitious playwright residency and commissioning program, the $4.6m NEXT STAGE Writers' Program. Previous positions include: the inaugural Artistic Director of Playwriting Australia; Literary Manager of Belvoir Theatre; Curator of the Australian National Playwrights' Conference; Festival Director of Interplay, the International Festival for Young Playwrights; and Literary Manager, and Wharf 2LOUD Producer, at Sydney Theatre Company. Chris has a PhD from Sydney University (2000), was awarded an inaugural Dramaturgy Fellowship by the Australia Council (2004), was a judge for the Windham-Campbell Award (Yale University 2016) and attended New Visions New Voices at Washington DC's Kennedy Center (2008). His monograph, What is an Australian Play?, takes as its subject institutional racism and outreach strategies (Currency House, 2008) and he has written introductions to Currency Press Play collections by Hannie Rayson, Caleb Lewis, Richard Frankland, Justine Campbell and Sarah Hamilton, Lachlan Philpott and Lally Katz.
KIRK PAGE
Kirk is a proud Mulandjali man born in QLD with lineage connected to the Torres Strait Islands and with German and Polish heritage. He is passionate about creating change through art making and developing young voices in their communities. Over the last 24 years he has thrived and survived as a professional Artist freelancing and based in Sydney. Kirk's career has exposed him to the arts scene nationally and internationally working on massive outdoor events to commercial musical theatre hits, developing bold new theatre works to gracing the Australian TV screens. Recently Kirk took up a position as the Associate Director at NORPA  directing 2 new works and mentoring the next generation of new leaders in his community.  Kirk has developed his instincts as a performer and a teacher working for the Major theatre Companies in Australia as an Actor ( stage and screen ) Dancer, Singer, Physical Theatre performer, Movement Director, Mentor, Teacher and recently as a producer working in Community Development in the Northern Rivers Region of Lismore NSW.