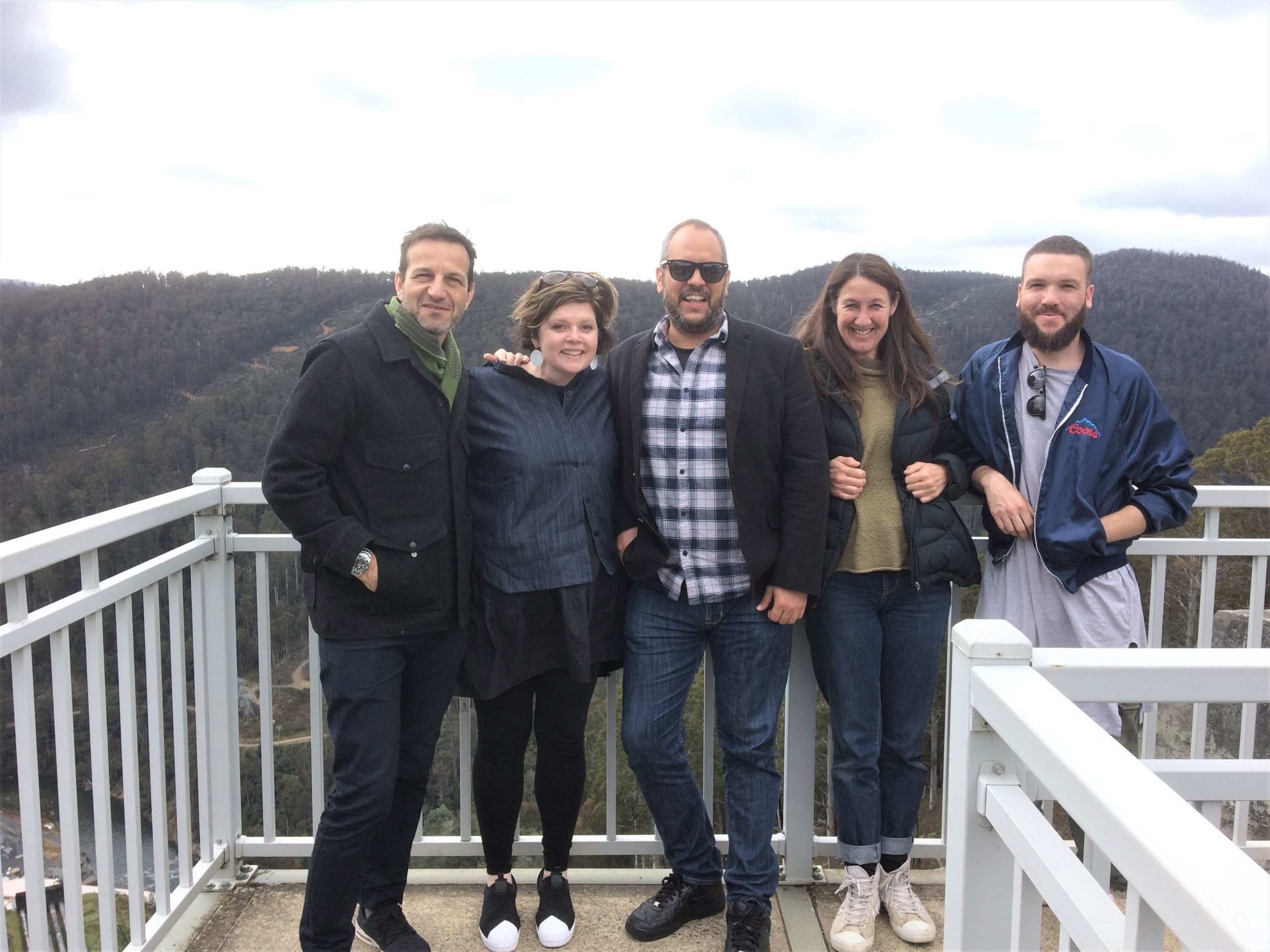 Mentors L-R: Gideon Obarzanek, Edwina Lunn, Maude Davey + staff member Thom Smythe
A few of the 2018 testimonials 
(The residency) connects artists from the north to the south. It broadens the scope of thinking. It creates a concentrated environment to explore an idea. It opens up new connections to bring in to your project. It generates important discussions of the wider arts community & local arts. It gives artists a chance to meet with someone / several people who they look up to in their industry and have multiple chats which would otherwise never exist. ~ Bec Jones 2018
I went to the residency to push myself out if my confort zone by starting Les Petites Annonces with Edith Perrenot. We both arw new to theatre rules, and we learnt a lot. It was very challenging and confronting to test our project in front of everyone but we felt safe and positively criticised. Concerning my ongoing practice, this residency was highly relevant because the discussion and workshops with other artists and mentors were very encouraging and will help me to push my personal practice more deeply into performance with less apprehension of the stage fear. 
The availability and conversation with the mentors were precious because they took time to listen to us, analize how they could help us with their knowledge and networks. Being exposed to them also forced us to articulate more what we wanted.~ Julia Drouhin 2018
I am now pulling all my knowledge and experience together. I am at a point now where I am ready to begin a new project and launch my work as a solo practitioner. This work and future works inside this project will demonstrate my style, perform the ideas I have been testing in more formal situations, and to take my work on tour'. This residency has enabled me to pull my project ideas together and to say the above with confidence. I can now see my project and the outcomes much clearer now than just a series of visuals and words. There is a new strategy I have been able to start collating which takes my art practice seriously and provides scope for it to come into existence. ~ Laura Purcell 2018
Tasmania Performs Artist Residency held at Tarraleah, 26-28 October 2018. The weekend at Tarraleah saw 18 artists, working across 16 projects, supported by 4 mentors, 2 staff and 3 guest producers.
PARTICIPANTS
Shuangshuang Zhang, Zeb Direen, Emma Skalicky, Bec Jones, Helen Swain, Andy Vagg, Julia Drouhin, Edith Perrenot, Anna Kidd, Jessica Davies, Kate Boden, Bryony Geeves, Carrie McLean, Laura Purcell, Kartanya Maynard, Jordy Gregg, Sinsa Mansell, Denni Proctor
MENTORS
EDWINA LUNN
Edwin is Director of Programming at Arts Centre Melbourne (ACM). She works with a team of programmers and creative producers on programs across participatory public realm, access and inclusion, youth, families and children, and creative learning; delivering a breadth and range of performing arts presentations at ACM's own risk. Edwin has a strong background in festivals – Darwin Festival (Artistic Director/ Co-CEO); Melbourne Festival (Special Events Producer/ Program Manager); Assembly Theatre and Gilded Balloon at Edinburgh Festival Fringe (General Manager); Melbourne Comedy Festival (Associate Director). Edwina has also worked as an independent producer/executive producer on her own projects and with companies including Strut & Fret, Black Arm Band, ILBIJERRI Theatre Co, Black Hole Theatre, Melbourne Recital Centre and La Soiree. A very long time ago she wrote and performed in sketch/character comedy for stage and television. 
ISAAC DRANIC
Isaac Drandic is Noongar from the south west of Western Australia and Croatian. He is a father, actor, dramaturg and director. He trained as an actor in the Aboriginal Theatre course at the Western Australian Academy of Performing Arts and has worked with many of the country's leading theatre companies including MTC, Malthouse, STC, Belvoir, ILBIJERRI and Yirra Yaakin. As Director: From Darkness (National Play Festival) The Season (Sydney Festival, Ten Days on the Island, Melbourne International Arts Festival (TasPerforms) Blood on the Dance Floor (ArtsHouse and ILBIJERRI 2016, Sydney Festival 2017) Coranderrk (Belvoir) Coranderrk We Will Show The Country (LaMama, Melbourne Indigenous Arts Festival, Sydney Opera House) (ILBIJERRI) Archie Roach's concert Into the Bloodstream. He is a recipient of several Green Room Association Awards in both the Independent and Theatre Companies category including, Blood on the Dance Floor which won most outstanding independent theatre production in 2017. The Season by Nathan Maynard was nominated for eight Green Room awards winning for best new writing, best direction and the coveted award for best production in the Theatre Companies category in 2018. Isaac has held the positions; Associate director of ILBIJERRI Theatre Company 2012-15, Resident Artist at Playwriting Australia and is currently the Resident Dramaturg at Queensland Theatre.
MAUDE DAVEY
Maude has been making work in and out of Melbourne for more than thirty years. She trained at VCA and appears in films, on television and on stage with reasonable regularity. Her contemporary variety show Retro Futurismus, created with Anni Davey, Gabi Barton, Anna Lumb and Teresa Blake has toured to Sydney, Darwin, Western Australia and Brisbane and was nominated for 5 Green Room Awards in 2016. She was a core member of The Burlesque Hour/Glory Box ensemble for Finucane & Smith from 2004 until 2013, when she 'retired' her Burlesque acts with her acclaimed autobiographical retrospective, My Life In the Nude. She also writes and directs and has a Masters in Writing for Performance from VCA. Recent acting work includes Melancholia by Declan Green (Malthouse Theatre) The Trouble with Harry by Lachlan Philpott for Melbourne Festival 2014 (MKA) (Green Room Award nomination for Best Actress); Ghosts, Toast and the Things Unsaid, a 2016 collaboration between Sandpit and Google Creative Laboratory; and The Flood by Jackie Smith, (most recent tour to Shanghai International Arts Festival, 2016). Recent directing work includes: Mothermorphosis, by Liz Skitch for debase productions; Fish! For the Rollercoaster Ensemble (2017); Oh! What a Lovely War, Mate! by Nick Enright after Joan Littlewood, for VCA Music Theatre (2016); My Life in Boxes, Gravity Dolls, (2014); I am not a Unicorn, by Emma J Hawkins (2015) and plus sign attached, a collaboration between VCA School of Drama Living Positive, about stigma surrounding HIV (2014).
GIDEON OBARZANEK
Gideon is a director, choreographer and performing arts curator. He was recently Artistic Associate with the Melbourne Festival, co-curator for XO State at the inaugural Asia Pacific Triennial of Performing Arts (Asia TOPA) and is currently Chair of the Melbourne Fringe Festival. Gideon founded dance company Chunky Move in 1995 and was CEO and Artistic Director until 2012. His works for Chunky Move have been diverse in form and content including stage productions, installations, site-specific works, participatory events and film. These have been performed in many festivals and theatres around the world including Edinburgh International, BAM Next Wave NY, Venice Dance Biennale, Southbank London and all major Australian performing arts festivals. In 2013 Gideon was a resident artist at the Sydney Theatre Company where he wrote and directed his first play 'I Want to Dance Better at Parties'. He later co-wrote and directed a documentary screen version with Mathew Bate winning the 2014 Sydney Film Festival Dendy Award. Recent creations include 'There's Definitely a Prince Involved' for the Australian Ballet, 'L'Chaim' for the Sydney Dance Company and 'Stuck in the Middle With You' the first Virtual Reality film commissioned by the Australian Centre of Moving Image. In 2017 Gideon co-created 'Attractor' with fellow choreographer Lucy Guerin, commissioned by Dancenorth Australia and co-produced by Asia TOPA, WOMADelaide and Brisbane Festival. He also stage-directed 'Bangsokol – A requiem for Cambodia' which premiered at the 2017 Melbourne Festival and later at BAM Next Wave Festival, New York.