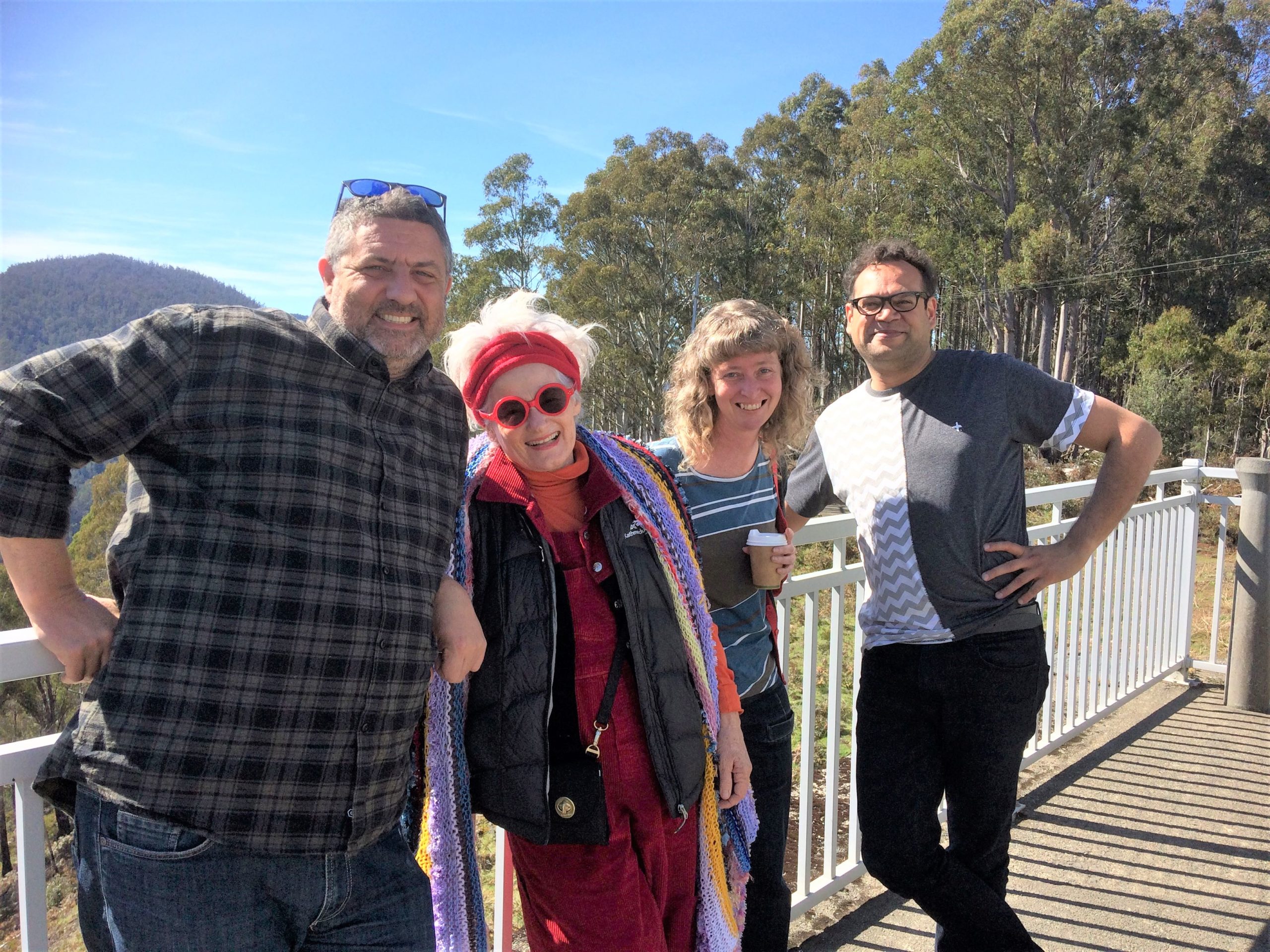 2017 Mentors (from L to R): Steve Mayhew, Margi Brown Ash, Deborah Pollard, Kyle J. Morrison.
Tasmania Performs Artist Residency held at Tarraleah, 27-29 October 2017. The weekend at Tarraleah saw 17  artists, working across 16 projects, supported by 4 mentors, 2 staff and 2 guest producers.
PARTICIPANTS
Bella Young, Chris Love, Jamie McCaskill (supported by Creative New Zealand), Kirsty Grierson, Leigh Tesch, Nathan Maynard, Rowan Harris, Sara Wright, Jordy Gregg, Sue Hayes, Essie Kruckemeyer, Kim Jaeger, Jane Longhurst, Joce Nettlefold, Lucinda Toynbee Wilson, Takani Clarke, Rachel Meyers
MENTORS
MARGI BROWN ASH www.margibrownash.com
Margi is a theatre maker, educator, therapist and coach, with her own creative arts therapy studio in Brisbane Australia, 4change coaching and counselling www.4change.com.au. Margi is co-founder/co-artistic director of The Nest Ensemble and FORCE OF CIRCUMSTANCE, both theatre companies based on collaborative principles. Margi's most recent work is The Belonging Trilogy: HOME is a postmodern exploration of re-storying our personal and professional lives; EVE is a deconstruction of illness and creativity and He Dreamed a Train is about family and loss. When not writing, directing, teaching or performing, Margi has her own coaching business, 4change coaching, where she employs a strengths-based and creative framework. Margi is a member of M.E.A.A (Australia's Actors Equity); a Taos Associate and a member of National Artistic Team at Queensland Theatre.
STEVE MAYHEW
Steve is a Creative Producer, Director, Dramaturg, General Manager, Sound Constructor and Curator, nurturing contemporary and experimental performance. Steve has collaborated with many artists / festivals and organisations such as; Adelaide Cabaret Festival, Adelaide Fringe, The Border Project, Brink Productions, Castlemaine Festival, Hong Kong Fringe Club, isthisyours? Junction Festival, post, Punctum Inc, Sandpit, Larissa McGowan, Sydney Dance Company and Sydney Festival. He was the Creative Producer at Country Arts SA between 2007 – 2017 and the Artistic Director of Regional Arts Australia's 2012 National Conference & Artistic Program Kumuwuki / Big Wave in Goolwa, South Australia.  In 2014 he co-founded PADA (Performance & Art Development Agency) with Vitalstatistix's Emma Webb to specifically present live art works and explore new organisational and producing models in Adelaide, South Australia.  He is currently the Co-Curator of The Australian Theatre Forum 2017. His award winning collaborations include Country Arts SA / Illuminart and  (If There Was A Colour Darker Than Black I'd Wear It), Restless Dance Theatre (Bedroom Dancing) and The WIRED Lab (Southern Encounter) and Larrisa Mc Gowan (Mortal Condition)
KYLE J MORRISON
Kyle has genetic connections through the Budimya and Watjari languages of the mid-west and the Wudjuri language of the south west as well as Baluch, Irish and Anglo heritage. He has been working in the theatre industry in Western Australia as an actor for since 1993, working for such theatre companies as Black Swan State Theatre Company, Deckchair Theatre Company, Barking Gecko and Yirra Yaakin Theatre Company. In 2008 through an Australia Council skills development grant, Kyle spent the year as an assistant director on such shows as, Sydney Theatre Companies production of Romeo & Juliet, Female of The Species, written by Joanna Murray for Black Swan Theatre Company and Yibbiyung by Dallas Winmar for Company B. Productions directed by Kyle as a free-lance director include- Muttacar Sorry Business (By Mitch Torres & David Milroy 2007-2010), In The Nyitting Time (2008). In 2009 Kyle was appointed AD of Yirra Yaakin and since then has directed a number of productions for Yirra Yakin including Good Lovin (By David Milroy 2009/10) Honey Spot (By Jack Davis 2010) and Mothers Tongue (By Kamarra Bell-Wykes 2010) Kaarla Kaatijin (By Zac James 2012) Cakeman (by Robert J Merritt) King Hit (by David Milroy) Fever and the Fret (by Jub Clerc) So Long Suckers (by Emmanuel James Brown, Ian Wilkes and Peter Docker) and Sister Girl (by Alexis West and Elena Carapedis). Kyle is keen to expand the idea and perception of what Aboriginal theatre could be.
DEBORAH POLLARD
Deborah is a performer, artist and director based in Sydney, Australia. She received the Winston Churchill Memorial Fellowship in 2000 and was awarded the Rex Cramphorn Scholarship in 2001 and a New Media Arts Board Fellowship from the Australia Council in 2002/3. Deborah's performance, theatre and installation works have toured throughout Australia as well as internationally. Deborah was artistic director of Salamanca Theatre Company in Hobart from 1997 to 2000. She also works as a freelance director, dramaturge and performer. She has worked extensively with Urban Theatre Projects, Lab Anino and Version 1.0 among others. Deborah recently completed her PhD at UOW.
A few of the 2017 testimonials 
I only had a vague idea of a project before the residency. I arrived at Tarraleagh to find a wealth of knowledge and passion from mentors and other participants. I now have the confidence to truly pursue this endeavour, I feel truly supported by everyone involved. ~ Takani Clark 2017
 (The Residency) has given the project a clear pathway forward so that it will progress not just stay as an idea. It helps clarify your focus as an individual artist and what your strengths are. ~Kirsty Grierson 2017 
 (The) creative thinking & processing in a group was great and very empowering. I got the courage to move forward with an understanding that there are many ways to make the project work. Instead of going round in circles in my own little thought bubble I expanded my thinking and good ideas were the result. ~ Lucinda Toynbee Wilson 2017
 How refreshing to be surrounded by colleagues all at different stages in their careers as well as their project formations. I didn't sense any ego or competition between participants or anyone else, and perhaps it was this diversity and the fact that the art itself was never in question, it was taken for granted that everyone there would take what they had grown on the weekend and bring their own practice to the project to the best of their ability. ~ Rachel Myers 2017.